2022 Kia EV6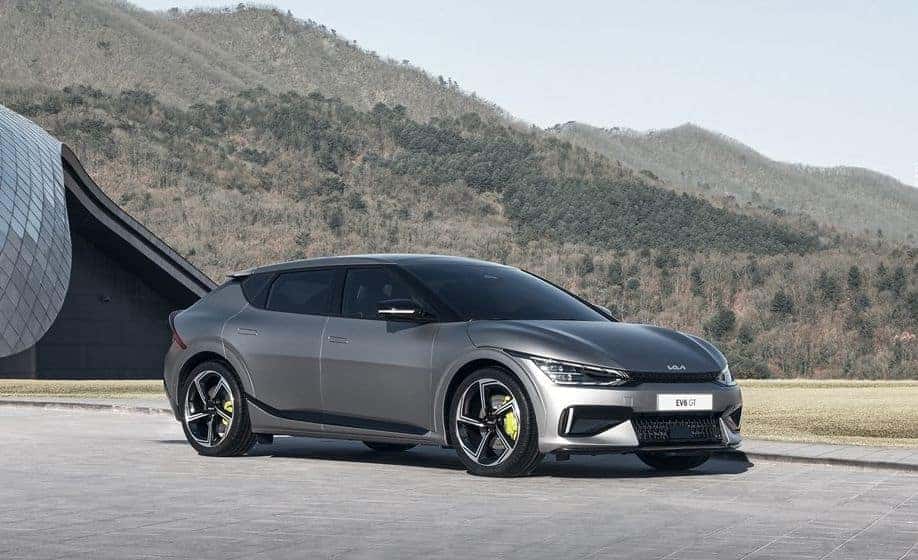 Overview
The big news out of Kia headquarters is the upcoming debut of the 2022 EV6, an all-electric crossover built on the new E-GMP platform. The EV6 signifies the start of Kia's 'Plan S' strategy, the aim of which is to release 11 EVs by 2026. The E-GMP architecture, which was developed specifically for these EVs, is long and spacious and has an underfloor-mounted battery that allows for a low center of gravity and optimal vehicle stability. Kia is also using ultra-high-strength steel to provide a structure that's as light as it is robust and features the world's first mass-produced integrated drive axle (IDA) to improve ride comfort and handling.
The overall vehicle itself will showcase Kia's next-level "Opposites United" design. Its key characteristics include a "Digital Tiger" grille (owing to the automaker's new tiger nose design), headlights with a consecutive dynamic light pattern, a high rear deck that functions as the vehicle's spoiler, and a visually striking cross-car rear light layout. Vehicle shipping is expected to begin in January of 2022, and you can join the waitlist to own this sleek new model today by visiting the Kia website. Need to know more about the EV6 before going for that spot on the waitlist? No problem: we have all the information you need below.
---
An Eco-Friendly Powerhouse
The upcoming Kia EV6 will be powered by an energy-dense battery pack that's available in two sizes: 58.0 kWh and 77.4 kWh. Buyers will be able to choose between the standard rear-wheel drivetrain and the available all-wheel drivetrain (AWD models will have an additional motor to for the front axle). Output is dependent on the type of drivetrain and battery, with the peak coming at 576 hp. What's more, certain trims will have a 0-to-60 mph time of just 3.5 seconds. The drive range of select EV6 trims is expected to be 300 miles per charge. Using a compatible 800-volt DC fast charger, the EV6 can gain 210 miles in a mere 18 minutes. You'll even be able to use the EV6 as a charger for other electric devices, like your phone, laptop, home appliances, camping equipment, and more.
---
Sustainably Sleek
The EV6 will have a modern, eco-friendly interior with a high percentage of recycled materials. Not only that, most trims will have 100% vegan leather surfaces and 100% LED lighting. The EV6's layout makes the most of interior space too, thanks to its low-profile giga steel front seats, which are thinner to maximize knee space in the back row. Its design also provides more room through a flatter floor, extra front interior storage, and a front trunk (which some people like to call a "frunk"). And this is a fully modern vehicle to say the least, meaning it's stacked with technology. In addition to an infotainment system that has dual 12.3-inch curved touchscreens and a blue-light filter to reduce eyestrain, the EV6 will also be eligible for an augmented reality head-up display that projects crucial data in a large, three-dimensional image "floating" over the hood of the car, where the driver can read it without removing their eyes from the road.
---
Advanced Safety Equipment
A full suite of advanced driver aids will be provided in the EV6. The standard features include blind-spot collision-avoidance assist, driver attention warning, forward collision-avoidance assist, automatic high beams, Highway Driving Assist II, intelligent speed limit assist, navigation-based adaptive cruise control, and rear cross-traffic collision-avoidance assist. Available driver aids will consist of a surround view monitor, reverse parking collision-avoidance assist, rear occupant alert, remote smart parking assist, and safe exit assist.
---
Fully Loaded First Edition
The EV6 First Edition will be the most exclusive version of this debuting nameplate. Its highlighted amenities include the augmented reality head-up display and vegan leather interior, plus a 14-speaker Meridian audio system, the surround-view monitor, 20-inch alloy wheels, a heat pump that helps preserve power in cold weather, a blind-spot view monitor, a heated steering wheel, heated front and rear seats, and a wide sunroof. You'll also be able to choose either an Apple watch, charging credits, or an at-home EV charger as a bonus with your order.